To quote
our favorite group
, "I read the news today, oh boy."
Monkee Peter Tork
- he was the funny one with straight shiny hair - has a rare form of head and neck cancer called
adenoid cystic carcinoma
. "It's a bad news, good news situation," Tork explains in a
press release
. Apparently, the bad news is that
the cancer is in his tongue, which is very rare. The good news is the type of cancer he has is generally slow growing and he has been given a positive prognosis. I'll be praying for you, Peter!
Peter Tork
was my "secret favorite" when the Monkees first came on the scene. The year was 1966, and TV stations were chomping at the bit to cash in on the success of the
Beatles'
first movie,
A Hard Day's Night
. Enter music producer extraordinaire
Don Kirschner
(who seemed to be
everywhere
in the 60's), who supervised the production of the NBC half hour comedy and also wrote the "romp" music which provided background to the "wacky" adventures of the four musical wannabes.
TV producers
Bob Rafelson
and
Bert Schneider
- collectively known as
Raybert Productions
- ran an ad in the
Daily Variety
for four young guys to play the members of the musical group. Legend has it that almost 450 people answered the call, including the likes of
Stephen Stills
(later of
Crosby, Stills and Nash
fame),
Paul Williams
(songwriter and another guy who was everywhere in the 60's),
Danny Hutton
(who went on to be part of
Three Dog Night
) and even
Charles Manson
(not true, and I won't go
there
right now). But in the end the parts went to two former child stars (
Davy Jones
and
Micky Dolenz
) and two actual musicians (
Mike Nesmith
and
Tork
).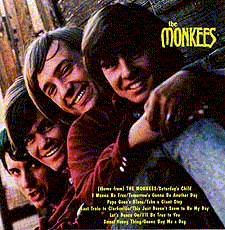 "
The Monkees
" was must-see TV when I was growing up. In fact, it was more than that. We bought their albums and watched their show and cut their photos out of
Tiger Beat Magazine
. Of course, I was really young then - I think the Monkees height of popularity came when I was in first grade - but I remember even swooning with my girlfriends over the long-haired, good natured fellows who came into our homes once a week, every Monday right before "
I Dream of Jeannie
." We all
loved
Davy, of course - he of the cute face, the
Beatles accent
and the safe short stature. Mike and Micky seemed like grown men, but Davy was safe.
And Peter was funny, which won him a special place in my heart. (Of course, it could be that I sensed there'd be way too much competition for Davy - in that sense, Peter was the safer choice!) By 1968, it was all over but the reunions (and we moved on too, as we were headed toward pre-teendom and had all but outgrown the pre-fab four).
But today, when I read the news, it was like it was 1966 all over again. "Here we come, walking down the street," the show would open each week, and I thought of those young guys, so happy and hard working and on the edge of their dream. It reminded me a bit of how we all felt growing up - like anything was possible if we just believed in the music. "We're the young generation, and we've got something to say."
Hey, hey, indeed.